Order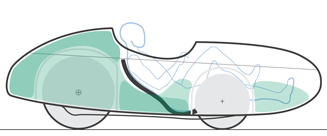 Velomobiles
At this moment we are working hard on the ordering page in the new website. For the time being, the procedure for placing an order for a velomobile begins by either writing, faxing, or emailing us at:

VelomobileUSA, LLC
1605 W Tennessee
Midland, TX 79701
Fax: (432) 570-4956
email: Info@PedalYourselfHealthy.org

As the FAW+ is produced here in Midland TX, prices are in dollars and we can deliver on fairly short order - see the FAW+ page.

Parts
Although some velomobile parts are used on many different makes of velomobiles. Most of the body parts are specific to one make or model of velomobile.

Be aware that prices for individual parts are much higher when shipped separate from a complete kit as the shipping and handling costs increase tremendously. Contact us for a price quote.

There are some "aftermarket" parts created by enthusiasts for specific velomobiles. While we would love to carry every part available, the economics of doing so are prohibitive. If you know of a useful part, or have an idea for one, let us know and we may be able to order it for you (and perhaps stock it regularly if it seems to be economically wise to do so). In the days of the internet, profit margins have been slashed so thin that virtually no one can make money trying to please everyone.